Florida Wedding On Pensacola Beach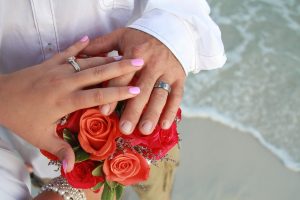 Florida beach wedding company for sale. Call us today for your Destin beach wedding. 850-426-3590

Destin beach wedding packages Click the link to see the wedding packages we are currently offering. We have several to choose from. We come to you and perform your ceremony at your accommodations. All the bride has to do is walk across the sand to the love of her life.
Destin is a tourist destination area so plan ahead. Try to make reservations for accommodations as soon as possible. This step puts you on your way to having a stress-less wedding.
Florida Marriage License
You will need a Florida marriage license.

We recommend you get a house, condo, townhouse or hotel. Houses and townhouses are your Destin wedding. If you are getting a condo make sure to ask if you can have your wedding there. Some condos, houses and hotels charge a fee and that is something you would be responsible for. Go for shorter condos, this will mean fewer people on the beach during your wedding. Houses on the Gulf of Mexico are great choices for your Destin wedding. If there is enough parking you can have your wedding and reception in the same place.
You can either have it catered or have a cook out. Most houses have grills and there are grocery stores where you can order party trays. You can find websites with condos and houses on the wedding resources page. We are no longer doing Destin weddings however a Florida wedding on Pensacola Beach may be more to your liking as it was voted the best beach in Florida 2018.
If you don't have a hotel, house or condo on the Gulf of Mexico some places have a dedicated beach access areas. Ask if you can have your wedding in the dedicated access area on the beach. Always make contact with your rental and discuss your wedding plans.
Activities
This area has many different types of entertainment and outdoor activities for the everyone. The beach is very pretty, great to walk on and enjoy the view of the Gulf of Mexico. Take a dip in the Gulf. There is family friendly fun with water parks and amusement parks. Restaurants and nightclubs are along Highway 98 for dinner and dancing. Let's not forget the shopping, you will never run out of place to check out for souvenirs for loved ones and yourself.