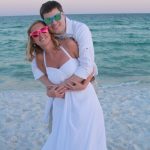 850-426-3590
On what beaches do you perform beach weddings?
We will perform beach weddings on the beaches of Northwest Florida and Southeast Alabama. There are several beach wedding packages available for you to choose from for every budget.
How early should I reserve my beach wedding date?
Additionally try to set the date as soon as possible for your romantic beach wedding. We do get booked up quickly, especially on Saturday afternoon at sunset. We do not book more than one year in advance. Please go to the contact page for our contact form.
Locations In Florida
Pensacola Beach and Perdido Key have some of the most outstanding beaches with easy public access. Pensacola Beach was voted the #1 beach in Florida for 2018. The white sand and clear Caribbean color water of the Gulf of Mexico is wonderful place to honeymoon. In the afternoon there are fewer people on the beach. Great area for beach weddings. Other areas on the Emerald Coast do not have this ability to gain beach access easily. Because of this we have stopped servicing those area. For information on a Florida marriage license please click here.
Locations In Alabama
Gulf Shores and Orange Beach are some of the best places for you to go. We are no longer serving the Fort Morgan area or anything down Fort Morgan Road. For information on an Alabama marriage certificate click here.
It should be noted the pages of this website contain information for you to use to enhance your wedding plans. Read them to clearly gain more information to help you make informed decisions.
Can I use my own vows?
Of course! Please feel free to do so. About one fourth of the couples we marry choose to do this. Fortunately we have a section in our ceremony to put your personal vows for your beach wedding if you choose to do so.
We both have children from a previous marriage. Is it possible to include them in the ceremony?
Absolutely! It is a great experience for children to be included in the wedding. Most children enjoy the sand ceremony. Besides most kids love to play in the sand, especially little boys. Here on the sand there can be castles.
Is there a certain place where you perform beach weddings? Can I have my wedding at the condo or house where I'm staying?
On most beaches there are public access areas for weddings at sunset.Together we will find the best place for you. Most beaches are public beach areas so there will be other people on the beach. Most people on the beach will respect your privacy. If you are staying on the beach in a rental house or condo, we can perform your beach wedding there. This is the most convenient for the wedding party. Encourage the guests coming to your wedding to get rooms there also. Group rates may be available. Remember to check with the management and see if they charge a fee for use of the beach, you would be responsible for this fee.
How should I wear my hair and makeup? What about bridal attire for bride and groom?
You may want to wear your hair up or back from your face. There will probably be a breeze and it could blow your hair in your face. Waterproof mascara and makeup. Do not forget the sunscreen even if you have a base tan. Brides can wear a gown, sundress, whatever their hearts desire.
We suggest you may want to go for flowing dresses or gowns for easy walking in sand. Men go for the short sleeve button down shirt with khaki slacks. Tuxedos in the summer are not recommended because it is still very warm even in the afternoon. Grooms will faint just as easily as brides. And everyone kicks off their shoes and has their toes in the sand.
What about parking for my guests?
If you are having a large amount of people coming to your wedding you need to think about where they are going to park if you plan on having your wedding at a beach house, hotel or condo. If your guests are not staying at your hotel or condo they may not be allowed to park there as parking is limited on most beaches. Your best answer with this situation is easier than your think.
Have the majority of your guests staying at the same place you are. Make sure the condo or hotel you are staying at will allow you to have your wedding on their beach. Some charge a fee and that would be something you would be responsible for. Pensacola Beach has more public beach access which are great areas for beach weddings. Perdido Key is also good with many parking areas.
I cannot make up my mind what beach to stay on. What are some of the attractions the area offers?
It really depends on what you are looking for. In Florida, Pensacola Beach is smaller and more intimate. Pensacola Beach has a beautiful stretch of beach with no houses, condos or hotels. Do not worry there are plenty of places to stay on the beach but there is also an area where there is nothing but beach. Most everything is within walking distance of the hotels. You can go on dolphin cruises, deep sea fishing, sunset cruises at just about all beaches on the Emerald Coast. And just sitting on the beach can be very relaxing.
You can pick your own personal taste in beaches by thinking about what you want. Navarre Beach is also a great place to get away from it all. In Alabama, Gulf Shores and Orange Beach are both great choices for destination weddings. Orange Beach is smaller and less traveled. These areas are separated by the state park which is a stretch of open beach about 1 1/2 miles.
I have seen brides with notebooks for their beach weddings. Does this really help?
Definitely! Start your beach wedding notebook as soon as you can. You will want to keep all of your information in one place that is easy to get to. Have everything in it from where you will be staying to your beach wedding theme colors. There are apps for your phone as well. As well as that where your ceremony will be performed.
Can we bring our own professional photographer or videographer?
Yes you can bring your own photographer. Your guests coming to your wedding may take pictures with their phones and cameras.
What happens if I have to cancel last minute?
If you should have to cancel we can reschedule your ceremony to a later date. Rescheduling will be required for natural and man made disasters