Beach weddings for Pensacola, Gulf Shores, Navarre, Orange Beach and Perdido Key
850-426-3590.
Welcome to the only place you will ever need for weddings on the beach in Florida and Alabama. Right now we can show you how to have a simple beach wedding. We work quickly to bring easy weddings for brides and grooms. Equally important we do last minute weddings. We have wedding packages for everyone, from small and simple to larger and elegant. Moreover our designs reflect our mission to have the bride and groom as the focus.
Browse our Beach Wedding Packages.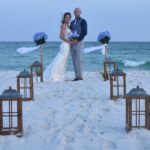 September is bringing less heat along the Gulf Coast and the tourist season is over. More time for 2 people to take private walks on the beach. Weddings are everywhere and as a matter of fact a Gulf Coast wedding is absolutely the best way to get married. Warm white sand and crystal clear water will take away the blues from everyone. The sun is over the sand dunes at sunset which adds a soft ambiance. We know you are looking for those kind of photos and we will give you great sunset moments.
Additionally we are getting spring weddings so you want to call and get your spot reserved. Spring will be here before you know it. We are looking forward to seeing you on the beach saying your vows. Finally for the first time you will be on the beach you have been looking for. Plan your wedding with us today.
Pensacola Bay Bridge Update
We also have good news on the Pensacola Bay Bridge, it is now 4 lanes. We are pleased with the completion of the repairs. Earlier the bridge was damaged in Hurricane Sally when barges struck the bridge. The Garcon Point Bridge is currently open with $2.75 toll for those of you who want to bypass Pensacola. At last you have 2 ways to access Pensacola Beach.
You can contact us here.
About Us
Altogether Beach Bride Weddings LLC has been in business serving the Northwest Florida and lower Alabama beaches for over 19 years. Clearly our mission is to provide brides and grooms with an enjoyable wedding to remember for years to come. Also we have vow renewals for couples wanting to celebrate their anniversaries. Importantly we are here to assist you in your needs.

Without a doubt Navarre weddings are for those wanting to get away from everything for more privacy. Firstly a Pensacola Beach wedding offers many amenities in a small area. There is a 7 mile stretch of sand called the Gulf Islands National Seashore. This area runs between Pensacola Beach and Navarre Beach and offers great views of the Gulf of Mexico. Perdido Key weddings is another good option for your wedding.

The wedding resources page is definitely recommended for information on florists, accommodations, bakeries and other wedding essentials. For one thing you should book mark this page on your phone for easy access. In the meantime visit all the pages on the website to learn more about the area and wedding essentials. Brides and grooms use the form on the contact page to contact us.
Email: beachbrideweddingsllc@gmail.com
Mailing address:
2172 W Nine Mile Road
Pensacola, FL 32534 US
Office Hours 9am to 8pm
Price $399.00 to $999.00
https://www.beachbrideweddings.com