Wedding Packages For Pensacola Beach, Gulf Shores, Navarre, Perdido Key and Orange Beach
850-426-3590
All wedding package designs copyright Beach Bride Weddings LLC. We also do elopements and vow renewals, contact us for availability. Click here for a list items you can bring with you.
Our goal with design is to make the bride shine.
Island Getaway Package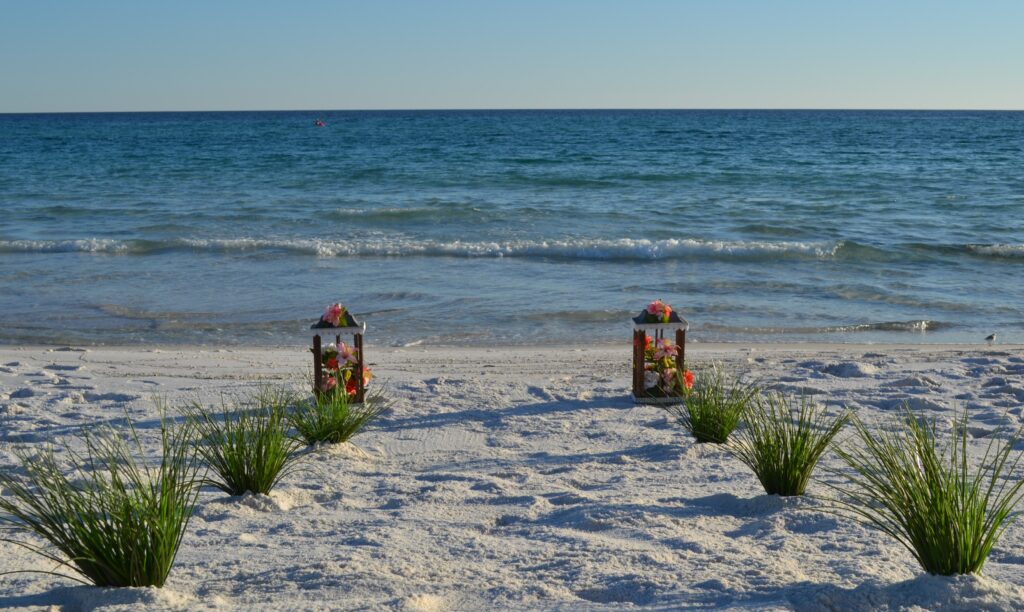 Officiant/Minister.
Beach-side ceremony.
Unity sand ceremony.
2 Decorated Lanterns 22 inches tall.
Aisle-way with 6 sea grass plants.
We have other floral colors for inside the lanterns.
$200 Monday – Thursday, $250 Friday – Sunday.
Photography
We have 3 options for photography. Your officiant'/minister can take photos with your phone or camera after your ceremony. Your guests can take photos. You can hire a photographer, we know some we can recommend to you. If you have questions please visit the contact page or call us. Thank you and have a great day.
If you are needing an officiant only the price is $150 Monday – Thursday and $200 Friday -Sunday. Some of you will only be requiring this service. We can help you find marriage license offices to make your experience less stressful. Saving you time and money is our goal. There are no large decorations.
Since we do not supply seating if you have someone who needs a chair you can bring your own. Most people prefer to stand but some might need seating. The ceremony is about 12 minutes so your guests will not be standing long. Primarily we have smaller weddings. This may be what you are looking for.
Be sure to read all the pages on the website for valuable information that will make your wedding less stressful. The marriage license page is a very important page. Make sure to read it carefully. Our wedding resource page has not only lodging but florist as well. You are on your way to the best day in the sunshine.