Elope To Destin
850-426-3590
Florida beach wedding company for sale.We are no longer doing weddings in Destin. This is the only Destin Florida wedding package we are offering. A deposit holds your date and you must be paid in full one month prior to ceremony. Fortunately we do last minute elopements if we have availability on your date. Call or email us and tell us your wedding date.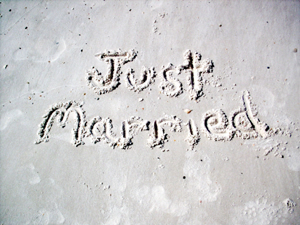 No longer available
Officiant.
Unity sand ceremony.
Video highlights of ceremony set to music.
24+ photos after ceremony.
Unlimited emails and phone consultations
Filing of license after ceremony.
For small weddings of 15 or less.
Sunday thru Thursday only.
$499

$200 Non-returnable deposit.
Deposit comes off price of package.
Cheap Destin Wedding Packages
We come to you and have your wedding where you are staying. We are doing weddings in Okaloosa County, however our service area stops before Henderson Beach State Park. Regretfully we do not service, Miramar Beach or San Destin. Ask the owner of the property if you can have your wedding on the property. You will be responsible for any fees the property charges for your wedding. We do not go to public access areas or public beaches. Public access areas or public beaches also charge for use of their beaches. Another item to note is the lack of parking in public access areas and beaches.
Destin Elopement Package
Currently we are not doing any decorations at this time in Destin. However Navarre Beach is a great alternative to Destin and we provide decorations on Navarre Beach in Florida. The beaches are beautiful and not as restrictive as Destin. Without a doubt Navarre is a beautiful beach for whoever is looking for getting away from it all. Now Navarre Beach has some of the most accessible beaches with a seven mile stretch of beach between Navarre and Pensacola Beach. Soon you will enjoy the area with nothing but white sand and Caribbean colored water. Florida Marriage License.
Since romance is on your mind you cannot go wrong with this area. Also I love the area and prefer it to other areas that are actually overcrowded because of poor planning. Ultimately make sure to check out the marriage license page as you will need a Florida marriage license to get married in the state of Florida. This is the most important piece of information you will need. You can contact us to ask questions as you will have some questions that we will be happy to help you with. Where you will stay will be your second most important item on your list.