Florida Marriage License
Call us today for more information.850-426-3590
● You must get a Florida marriage license to get married in Florida.  You can not bring a marriage license from another state and use it in Florida.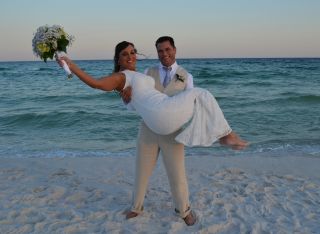 ● A Florida marriage license receives one certified copy of the marriage license. Certified copies for Florida are about $3 to $4 per copy.
● The bride may need additional certified copies of the marriage license for changes to her last name on Social Security,  drivers license, insurance, professional licenses and real estate if she decides to take her spouse's last name. You will also need one for your records
● A Florida marriage license can be obtained from any county courthouse in the state of Florida.
● You can get married anywhere in Florida once the license has been obtained.
● Your marriage license is good for 60 days.
● It must be filed within 10 days after it is dated and signed.
● Non Florida residents can get married the same day they purchase their license.
● Florida residents must wait three days before they get married or go through counseling.
● No blood test is required.
● Licenses are approximately $93.50.
● Photo ID is required of both bride and groom. ID must be current, not expired. An expired identification will not be granted a marriage license.
● A state drivers license, state ID card, military ID or passport are the identifications that are acceptable.  You only need one of these not all four.
● Both bride and groom must be present when applying for the license.
● Bride and groom must be 18 years of age.
● If you have been divorced for less than 2 years you may want to bring your divorce papers with you when you apply for your marriage license.
● If you have been married before you will need to know the exact date of your divorce.
These offices are open Monday thru Friday 9-5pm and are closed on all holidays. Make sure to arrive before 4 pm. For more information on the marriage license contact the offices listed below. You may want to go to the Escambia County Clerk online and download a marriage license application and fill it out. This will save time when you go to get your marriage license.
Pensacola
Ernie Lee Magaha Judicial Building
190 Governmental Center
Pensacola, FL 32502
850-595-4182
On the corner of Baylen and Government.
Gulf Breeze, Pensacola Beach and Navarre Beach
South Santa Rosa Service Center
5841 Gulf Breeze Parkway
Gulf Breeze, FL 32563
850-983-1800
Next to the zoo on Highway 98 between Gulf Breeze and Navarre.
Destin
Okaloosa County Courthouse Annex
1940 Lewis Turner Blvd.
Ft. Walton Beach, FL 32547
(850) 651-7200
These offices are closed on weekends.
We will need to see your marriage license before the ceremony. We will need to know where you purchased your marriage license because it must be filed at the location you purchased it from. Most offices provide a return envelope.  If you wish, you may file it yourself after it has been signed by the officiant performing the ceremony.