Marriage License In Pensacola, Navarre and Perdido Key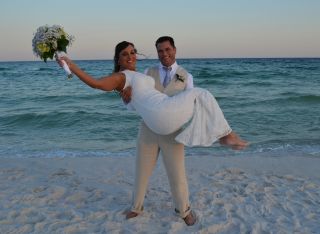 Call us today 850-426-3590.
Escambia County in Pensacola and Santa Rosa County in Navarre will be processing marriage licenses by appointment only. At this time the Okaloosa County marriage license department is currently offering online marriage licenses. Contact us today for more information too.
Beach wedding in Pensacola
Florida Marriage License Requirements
Pensacola Beach wedding package.
Without a doubt arrive on time to your appointment.
The bride and groom must be present and have an acceptable form of identification. It should be noted a drivers license, military I.D., visa or passport is acceptable identification. Next the couple must provide their social security number or alien registration number.
Your ID must be current. In addition both people must complete the marriage license application and bring it to the appointment at the marriage license office. There is a 3 day waiting period if either person is a Florida resident. Fortunately out of state residents have no waiting period. Clearly this can be good for visitors.

The couple must absolutely read the Family Law Handbook. If you have been married previously you are required to provide information on how the marriage ended. This includes divorce. You must also provide the date the marriage ended. This also includes death of spouse. Of course we will provide you with any info you will need.


Additionally payment options for a marriage license are cash, check, debit or credit card. Major credit cards are accepted. However the fees brings the total to $93.50
The marriage license is valid for 60 days after you purchase it. Importantly your marriage license must be returned within 10 days of after being signed.
Pensacola, Pensacola Beach and Navarre Beach
Also the offices are closed on all holidays and weekends. Another key point is a marriage license application can be downloaded online. Equally important remember to bring your application with you. Contact us for answers to your frequently asked questions. Above all we are here for you.
For Pensacola Beach or Navarre
Escambia County Clerk's Office
190 W Government Street
Pensacola, FL 32502
850-595-4182
Monday through Friday between the hours of 8:30-4:00pm, by appointment only.
Courthouse Annex Extension
1940 Lewis Turner Blvd.
Ft. Walton Beach, FL 32547
(850) 651-7200, ext 4450
Mon – Fri 8:30am to 4:30pm. They are offering online marriage licenses.
For Navarre
South Santa Rosa County Service Center.
5841 Gulf Breeze Parkway.
Gulf Breeze, FL 32563.
(next door to THE ZOO) 850-983-1824.