Information For Florida Weddings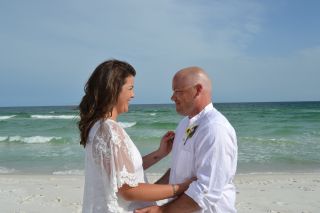 850-426-3590
Indeed this is the most wedding friendly beach on the Gulf Coast with more beach access than other beaches.
Pensacola and Pensacola Beach are two separate areas, Pensacola Beach is on Santa Rosa Island, Pensacola is on the mainland.
Florida Marriage License

You will need a Florida marriage license to get married in the state of Florida. Visit the marriage license page for more information. You cannot, however, take a marriage license across state lines and use it in another state.
Pensacola Beach was voted the #1 beach in Florida by the USA Today readers. Gulf Islands National Seashore was voted #3 . Navarre Beach was voted #4. These 3 areas run together, providing 30 miles of the most beautiful beaches in the world. Undoubtedly this area has more open beach to walk on than any other area.
Public Access Areas For Weddings

Because of the numerous public access areas there is adequate space for parking. The National Seashore is a 7 mile beach between Pensacola Beach and Navarre. There is a $50 fee for your wedding in the National Seashore. Click on the following to your Pensacola Beach wedding packages.
Beach Houses Can Be A Reception Area

Also you may want a beach wedding house for your event. These houses clearly have made it easier for brides and grooms to have their Pensacola Beach weddings. Any of these houses can consequently be rented for one night. Have the wedding and reception in the same place. Beach houses can sleep up to 30 guests with patios under the homes for receptions. Some beach houses are on the Gulf of Mexico.
Look at our beach wedding resources.
You can walk on the beach to look for shells. Because the water is clear you will find many seashells. Also Navarre beach is a great places for weddings and the best kept secret on the Emerald Coast.