Information For Florida Weddings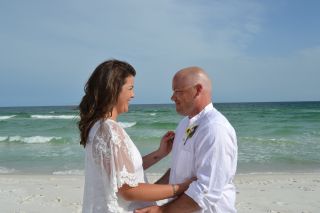 850-426-3590
The most wedding friendly beach on the Gulf Coast is Pensacola Beach. With so much open beach it beats the competition by far. What do I mean by that? More beach without buildings and easy to get to.
Did you know Pensacola and Pensacola Beach are two separate areas? Pensacola Beach is located on Santa Rosa Island which is one of the barrier islands that line the coast of Florida. Pensacola is on the mainland.
You will need a Florida marriage license to get married in the state of Florida. Visit the marriage license page for more information. You cannot take a marriage license across state lines and use it in another state.
Pensacola Beach was voted the #1 beach in Florida by the USA Today readers for 2018. Gulf Islands National Seashore was voted #3 and borders Pensacola Beach. Navarre Beach was voted #4 and it border Gulf Islands National Seashore. That is about 30 miles of some of the most beautiful beaches in the world and this area has more open beach to walk on than any other area.
There are many public access areas with plenty of parking. There is a 7 mile stretch of beach between Pensacola Beach and Navarre called the National Seashore. If you want to have your wedding in the National Seashore there is a fee of $50. Click on the following to your Pensacola Beach wedding packages.
You may want to consider one of the many beach wedding houses that are available on here. Over the years these houses have made it so much easier for brides to have their Pensacola Beach weddings. Many of these houses can be rented for just one night to have the wedding and reception at the house. Some house can sleep as many as thirty guests with patios under the houses for receptions. It can be a great way to have everything in one place. Most are right on the Gulf of Mexico, making the walk for the bride as simple as coming down the stairs and walking out on the beach. Now that is keeping it simple. You may want to look at our beach wedding resources for more valuable info
If you would like to walk on the beach and look for shells the area between Pensacola Beach and Navarre has a wide variety of seashells from the Gulf of Mexico. The water is so clear you will see many seashells easily. Your Navarre beach wedding will be one you will remember for a long time. It is the best kept secret on the Emerald Coast.
Stay at one of the wedding friendly condominiums and hotels on the Gulf of Mexico and have your ceremony there or enjoy one of the public access areas. We will come to you for your Pensacola Beach wedding.