Budget Beach Wedding In Florida
What do you think about when you see brides and grooms on the beach Destin Elopement? Do you wish it was you? Dream no more! We can show you how to have a Florida Beach wedding on a budget. We have wedding packages starting at $499 that have photography included for your Navarre Beach wedding.
Highly Rated Florida Beaches
Pensacola Beach has been voted one of the best beaches in Florida and it' is best place to have a wedding to remember. Imagine walking across the sand that glistens and water that looks like a Caribbean dream come true. We have a wedding resources page that will have you picking your flowers, salon, cake and accommodations all on one page for your beach wedding packages. Everything right at your fingertips.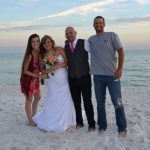 Having a wedding has never been this easy. Just want the two on you? We have a wedding package perfect for an elopement or small wedding. Bringing family and friends? We can help with that as well. We have wedding arches designed to be simply elegant without overshadowing the bride. And you could not pick a more appealing place that the beach.
Why be indoors when the beach is so much more romantic. We can share with you the best times to here and summer is not necessarily the best time. Some of the best times and spring and fall. Less people on the beach during your ceremony. We can also tell you which dates to avoid like July 4th. The condos and hotels are sterling but condos here can be elegant or more budget friendly and still be on the beach.
Although it sounds like a dream believe me it can happen. With almost 20 years of experience in the wedding industry we are well equipped to answer any question you need. Do not wait anymore. Make the call and get your very own wedding dream come to life. We can talk to via phone or email. We want to show you how to get your wedding started. All you need to do is show up with a marriage license.