Marriage License Information for Alabama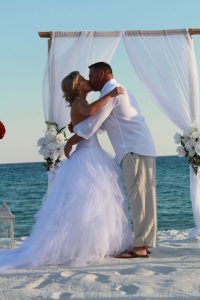 Call us today to have your Alabama beach wedding, 850-426-3590.
Please visit the contact page for more info on CoVid19 and how it is affecting our area.
• Effective August 29, 2019, the process for entering into a legal marriage in Alabama changes, pursuant to Ala. Act 2019-340.
• Under the new law, persons wishing to become married are no longer required to file an application for a marriage license with the county probate court, and the courts will no longer issue marriage licenses.
• Furthermore, all Alabama probate courts will now be required to record marriage certificates.
• The Alabama Marriage Certificate form represents a contractual agreement between the parties to the marriage, completed by both parties and delivered to the probate court for recording.
• Once properly completed and recorded, the marriage is valid.
• A wedding ceremony may be performed for the parties, but solemnization is no longer required for a recognized marriage in Alabama.
• After the form is completed and notarized, the parties will submit the form and $73.00 filing fee(either in person, by mail, third party) within 30 calendar days to the Probate Office in Bay Minette (only)for recording.
• The 30 day period for recording the document in Probate Court commences when the last party executes the document.
• Form must be legible and all requested information must be provided.
• Incomplete forms or forms containing white-out or other corrective marks will not be accepted.
• It is the responsibility of the parties to ensure the accuracy of the information provided.
• The fee is $73.00 which includes one certified copy.
• You may mail your certificate and payment(money order or cashiers check made payable to Judge of Probate) to the address below.
• Please include a return address. No business or personal checks accepted. If you submit the form in person or by third party, there are additional payment options of cash or credit card (service fee applies).
Judge of Probate
Marriage Section
PO Box 459
Bay Minette, AL 36507-0459
• Information, forms and instructions are available on the Alabama Department of Public Health's website at
www.alabamapublichealth.gov/vitalrecords/marriage-certificates.html.
Copy and paste this is your browser.
Baldwin County Courthouse
220 Courthouse Square
Bay Minette, Alabama 36507
(251) 937-0260, (251) 943-5061
Monday through Friday
between the hours of 8 and 2:30pm.
This office is closed on weekends and holidays.
Orange Beach weddings are also available in Alabama.