Marriage License Information for Alabama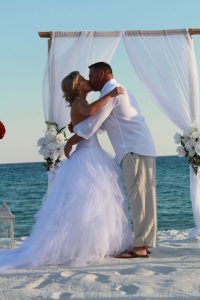 Call us today to have your Alabama beach wedding, 850-426-3590.
•An Alabama marriage license can be obtained from any county courthouse in the state of Alabama.
•You must get an Alabama marriage license to get married in Alabama. You can not bring a marriage license from another state and use it in Alabama. You can get married anywhere in Alabama once the Alabama marriage license has been obtained.
• The fee for an  Alabama marriage license is $70..
• A marriage license is valid in Alabama for 30 days from the date it is issued.
• Both bride and groom must be present when applying for the license.
• Photo ID is required of both bride and groom. ID must be current, not expired.  An expired ID will not be granted a marriage license.
• The identification required to purchase a marriage incense is a state drivers license, state ID card, military ID or passport is acceptable. Only one form of identification is necessary.
• If you have been married before you will need to know the exact date of your divorce.
• In the state of Alabama you may not apply for a license within 60 days after your divorce was granted unless you are remarrying your former spouse.
• Bride and groom must be 18 years of age and know their social security number.
• The bride may need certified copies of the marriage license for changes to her last name on Social Security, drivers license, insurance, professional licenses and real estate if she decides to take her spouse's last name. You will also need one for your records. The state of Alabama does not give you a copy of your marriage license, instead they will provide you with a form to fill out and mail in to get the certified copies you need. Each copy is $4 each.
We will need to see your marriage license before the ceremony. Looking for Gulf Shores wedding packages?
We will need to know where you purchased your marriage license, it must be returned to the location you purchased it from.
Most Alabama marriage license offices provide a return envelope for mailing the marriage license back. If an envelope is not given to you, ask for one.
If you wish you may file your marriage license yourself after it has been signed by the officiant performing the ceremony. Some couples want to get the license before they leave the state. Orange Beach weddings are also available in Alabama.
Baldwin County Courthouse
220 Courthouse Square
Bay Minette, Alabama 36507
(251) 937-0260, (251) 943-5061
Monday through Friday
between the hours of 8 and 3.
Arrive no later than 2:30pm.
This office is closed on weekends and holidays.