Marriage License Information for Alabama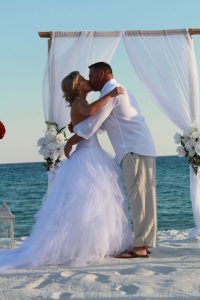 Call us today to have your Alabama beach wedding, 850-426-3590.
In Baldwin County both Orange Beach and Gulf Shores is currently only processing marriage certificates by mail. Follow the instructions below.
• The Alabama Marriage Certificate form represents a contractual agreement between the parties to the marriage, completed by both parties and delivered to the probate court for recording.
• Once properly completed and recorded, the marriage is valid.
• A wedding ceremony may be performed for the parties, but solemnization is no longer required for a recognized marriage in Alabama.
• After the form is completed and notarized (list of notaries at the bottom of the page), the parties will submit the form and $73.00 filing fee by mail within 30 calendar days to the Probate Office in Bay Minette (only) for recording.
• The 30 day period for recording the document in Probate Court commences when the last party executes the document.
• Form must be legible and all requested information must be provided.
• Incomplete forms or forms containing white-out or other corrective marks will not be accepted.
• It is the responsibility of the parties to ensure the accuracy of the information provided.
• The fee is $73.00 which includes one certified copy.
• You may mail your certificate and payment (money order or cashiers check made payable to Judge of Probate) to the address below.
• Please include a return address. No business or personal checks accepted.
This process is alot easier than going to the Baldwin County Marriage License office which is about a 100 mile trip from Orange Beach and Gulf Shores. The traffic on 59 can be slow.
Judge of Probate
Marriage Section
PO Box 459
Bay Minette, AL 36507-0459
• Contact us and we can send you a link to the forms.
Baldwin County Courthouse
220 Courthouse Square
Bay Minette, Alabama 36507
(251) 937-0260, (251) 943-5061
Monday through Friday
between the hours of 8 and 2:30pm.
This office is closed on weekends and holidays.
Orange Beach weddings are also available in Alabama.
Notaries
The UPS Store
25910-0 Canal Rd, Orange Beach, AL 36561
251-981-4533
Hours
Monday – Friday 7:30am – 6pm. Saturday 8am – 1:30pm. Closed Sunday and all major holidays.
The Ups Store
1545 Gulf Shores Pkwy, Gulf Shores, AL 36542
251-968-4877
Monday – Friday 7:30am – 6pm. Saturday 8am – 1:30pm. Closed Sunday and all major holidays.