Beach Weddings For Gulf Shores and Orange Beach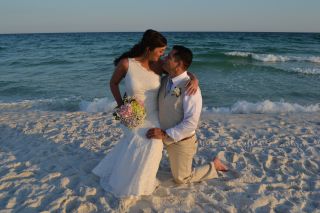 850-426-3590
We can help you with your Gulf Shores beach wedding. We suggest you find a house, hotel or condo to have your ceremony. Visit our Gulf Shores beach wedding packages page to find the right one for you. For hotels go to Google and text Gulf Shores hotels, there you will find plenty to choose from and reviews to help you make the right choice for you.
There are also condos and hotels that will let you use their beach as long as you are staying there. Most condos and hotels have conference rooms you can have a reception in.
Beach houses are another way to go. You can have wedding and reception all in one place without having to drive anywhere. Easy on the bride and groom, especially the bride. All she needs to go is walk out the door and onto the beach. Very convenient when you are in a wedding gown. Not getting in a car and driving can be a blessing.
You will need an Alabama marriage license to get married in the state of Alabama.
Gulf Shores beach weddings will be enjoyable ones with sparkling white sand to have your wedding. Looking for info to help with Gulf Shores wedding planning? You may want to think about a beach house, where you can have your wedding and reception at the same place. We would come to you and perform your ceremony.
An Orange Beach Alabama beach wedding is another area for consideration. Orange Beach is smaller and less traveled, the quaint area is a hidden treasure. There are houses and condos here to rent for your special day. There are also hotels here right on the Gulf of Mexico. The Wharf is right around the corner and easy to find with plenty of shopping and concerts in the spring, summer and fall. Orange Beach has everything you need to have your beach wedding including hair salons, grocery stores, and great restaurants. You can Google many of the places listed above for reviews.