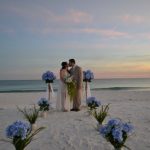 This is the Caribbean dream with blue hydrangeas. First our bride also wanted some greenery with her arrangements. We think this turned out great however if you prefer more flowers or greenery we can make it happen. The bride and groom were a local couple. Mostly we have brides and grooms from out of town to come to the beautiful Gulf of Mexico to say their vows.
They only wanted the 2 of them at their ceremony and it was lovely. If you prefer just the 2 of you may I say you will be pleasantly surprised on how romantic it truly is. Just look at how happy and blessed they are. Many couples prefer this way to get married. Some may have one or two friends or family to accompany them on their journey. The simple wedding with no attendees does appeal to more and more couples.
Caribbean Dream
Clearly If you are looking for a wedding package that is smaller but still has a more floral vibe I would recommend the Caribbean Dream. Without a doubt this package is great for small or large weddings. If you want to focus more on the beach and less on the decorations this is the package for you. This wedding was in November and look how deserted the beach is. That is because of the time of year. Also the suns set right over the Gulf for spectacular photography. Come see us when you are ready and we will have the wedding of your dreams.
Obviously I love the sunset with all the soft colors. Notice the pinks and light oranges in the sky. If you look closely the color gently softens into the blue sky to the left . We do not over process our photos to make them look more than what they are. This has no editing. You see the beach and loving couple exactly as they appeared on their wedding day. I have found that over processing photos looks unnatural and is not flattering to anyone.